Mozambique's International
Relations with Zimbabwe
Dossier MZ-0146, part 2


2. After Independence, 1980-1986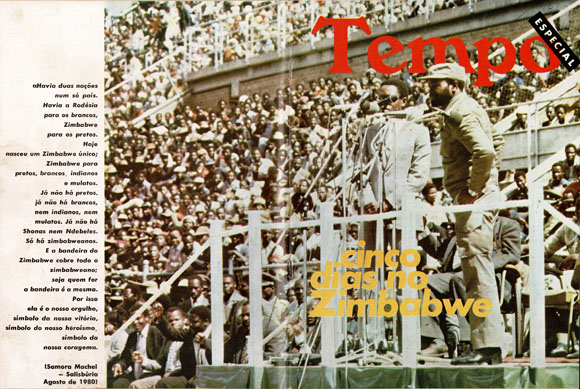 Above: The front and back covers of a special insert - effectively a special issue - of the Mozambican weekly news magazine Tempo, to mark Samora Machel's triumphant first official visit to independent Zimbabwe. He is shown speaking to a large crowd at Rufaro Stadium in Harare on 7 August 1980. On the left, interpreting into English, is his special advisor Fernando Honwana, who was killed alongside Machel in the Mbuzini disaster in October 1986. The 64-page special number, lavishly illustrated with photographs by Ricardo Rangel, Daniel Maquinasse and Moira Forjaz, was bound in with Tempo no.516, 31 August 1980. It is included in this dossier.
After Zimbabwe's independence in 1980, relations with Mozambique were close, despite an alleged lack of personal rapport between the somewhat formal Robert Mugabe and the extrovert Samora Machel in the early years. Despite initial optimism that without Rhodesian support the MNR insurgency would wither away, the transfer of responsibility for the rebels to South Africa resulted in an intensification of the destabilising activities of the group, and in a steady increase in regional tensions, despite Mozambique's signing of the Nkomati Accord in 1984. In October 1986 in the midst of a major crisis, Samora Machel was killed in the air disaster at Mbuzini, in circumstances that remain murky to this day; many observers continue to believe that the apartheid regime was involved in the crash through the use of a false navigation beacon.
As early as May 1980, the Zimbabwe government made it clear that it would "act" against the MNR rebellion in Mozambique: in response, the MNR's representative in Lisbon, Evo Fernandes, immediately vowed to "unleash war" against the new ZANU-PF government if it in fact became directly involved. In August, Samora Machel made a triumphant visit to Zimbabwe, and regular high-level meetings resulted in various formal agreements on defence and security, as well as other areas, that were concluded over the next months. By November 1982 several hundred Zimbabwean troops were reportedly camped inside Mozambique to protect the fuel pipeline in what was to become known as the Beira Corridor (from Beira to Mutare). Cooperation continued in other areas, such as culture, energy and agriculture, as well as the use of transport routes for exports and imports.
In July 1985, during a visit to London, the Mozambican Foreign Minister, Joaquim Chissano, confirmed that Zimbabwean troops were to be deployed in an offensive role against the MNR inside Mozambique for the first time. In early 1986 Prime Minister Mugabe commented that such deployment (unofficially estimated at 10,000 soldiers) was the only way to resist South African aggression in the Southern African region. In June 1986 Machel spent three days in Zimbabwe in what was described as a "working visit", and soon afterwards Mozambique and its Frontline States allies began to exert pressure on President Hastings Banda of Malawi to end his collaboration with South Africa and the MNR/RENAMO. On 11 September, Machel, Mugabe and Kenneth Kaunda of Zambia presented Banda with a dossier of evidence (see here for documentation and reporting on the October 1986 crisis).
Evidently encouraged by their success in exerting pressure on Banda, the Frontline States leaders tried the same tactic against President Mobuto Sese Seko of Zaire (now the DRC), and it was on the flight home from a meeting in Zambia that Machel's Soviet-made Tupolev crashed at Mbuzini, killing Machel and most of the others on board, in circumstances that up to now have not been adequately explained.

MHN Resources
Consolidated Downloadable Zipped Files
Click on the yellow folder image below to download the second part of the dossier of documents and press clippings in PDF format concerning relations between the Mozambican government and Zimbabwe. For material on Zimbabwean political and military participation in the struggle against the RENAMO rebellion, see also the series of pages "Conflict with Renamo".This edition of the second part of the dossier contains 70 documents and is dated 25 March 2021. New material may be added from time to time.