Mozambique's International
Relations with South Africa
Dossier MZ-0007, part 1


1. Roots of the Total Strategy, 1970s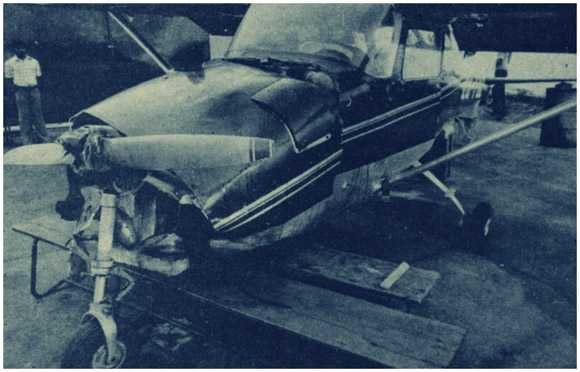 Above: The Cessna 172 "Skyhawk" light aircraft, with South African registration ZS-FUZ, that was shot down over Chicualacuala on 4 September 1976 with two Rhodesian military on board, one of whom was killed. Note the damage to the front of the aircraft. Airspace violations became common throughout the late 1970s and 1980s: in April 1978 two Belgians were shot down while illegally overflying Mozambican territory. They were released in September of the same year.
During the first few years after independence in 1975, Mozambique's relations with apartheid South Africa were characterised by economic pragmatism. The port at Lourenço Marques (Maputo after February 1976) was geared primarily to serve South African needs, and migrant labour from the three provinces south of the Save river (Maputo, Gaza and Inhambane) was a major source of revenue for the Mozambican government. "We don't want to provoke anyone," Joaquim Chissano remarked in 1974, at a time when South Africa was the country's biggest trading partner after Portugal, the former colonial power. Prime Minister Vorster even claimed that he had received assurances that Mozambique would not serve as a base for guerrilla attacks on the apartheid state.
From the South African side, however, relations with Mozambique were located within a wider set of priorities, as Robert Davies and Dan O'Meara argued in 1985:
"The apartheid regime has … acted as the aggressor in the region … since 1975 and has inflicted great material damage on particular Southern African states in specific periods. However the view which reduces Pretoria's entire regional strategy to 'destabilisation', fails to recognise that since at least 1978 this strategy has also envisaged what might be called 'formative action' - the attempt to create a new network of regional economic and social relationships which would persuade Southern African states that it is in their interests to collaborate with Pretoria … South African regional policy have been consistently geared around the clear and articulated strategic objective of re-structuring the pattern of relations between the states of Southern Africa - repeatedly expressed by policy makers as the establishment of a 'constellation of states'." (Journal of Southern African Studies vol.11 no.2, 1985, p.184).
This provides us with a framework for understanding events in the 1970s. In late 1975 it was reported that South Africa's consulate was to close, while at the same time it was "expected" that Marcelino dos Santos was to lead small delegation to Pretoria. But by 1976 tensions were mounting: a South African ship was fired upon in Mozambican territorial waters; a South African-registered light aircraft piloted by two Rhodesians was shot down over Chicualacuala; and some Mozambican soldiers were detained after crossing into South Africa in pursuit of fleeing white settlers. In October Vorster, reportedly enraged by Mozambican intransigence over a proposed settlement to the Zimbabwean independence struggle, began to threaten economic sanctions against Mozambique, a measure described in at least one report as "bluster".
In 1978, however, South Africa delivered a "shattering blow" to its neighbour when it formally abolished the arrangement under which part of the wages of Mozambican migrant workers on the mines was remitted in gold to the Mozambican government at the official, rather than the free market price. Maputo was then at liberty to sell the gold on at a significant profit. The decision to remit at the market price coincided with a sharp drop in the number of miners, and the South African media reported in June 1978 that the FRELIMO government had asked for a relief subsidy from Pretoria of R40 million. In May 1979 alleged "secret talks" were held in Pretoria between the Mozambicans and the South Africans in an attempt to negotiate a long-term trade agreement between the two ideologically-hostile regimes.

MHN Resources
Consolidated Downloadable Zipped Files
Click on the yellow folder image below to download a zipped file of the first of a series of dossiers on South Africa-Mozambique relations. The archive covers the period 1974-1979, and contains 34 documents. New items will be added from time to time: this edition of the dossier is dated 23 October 2021.