Mozambique's International
Relations with South Africa
Dossier MZ-0007, part 15


15. Is South Africa Still Supporting RENAMO?
and, South Africa at FACIM-1991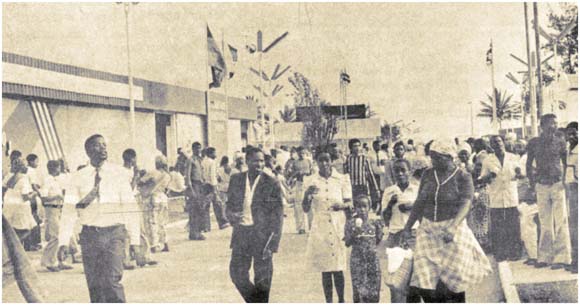 Above: Crowds at the annual FACIM trade fair in the 1980s. In 1991 there was no official South African pavilion, but nevertheless it was reported that "a number" of South African companies exhibited. Countries that were officially represented included the US, Germany, France, Italy and Portugal.
The opening up of relations between Mozambique – now no longer guided by revolutionary Marxism-Leninism, and well on its way to becoming a liberal multi-party capitalist state – and South Africa – itself not yet free of the shackles of apartheid, led a wide range of events in 1991.
Thousands of South African farmers rushed to try to obtain land rights in Mozambique. Although South Africa did not open an official pavilion at the annual trade fair, FACIM, several South African companies did turn up to display their wares. It was reported that Eschel Rhoodie (1933-1993), a former head of the South African government's Dept. of Information in the early 1970s, had been taken on by the Mozambican government as a consultant. Rhoodie had been a key player in the "Infogate" or "Muldergate" scandals of 1978-1979. Joaquim Chissano broke ranks with other Frontline States by saying that he believed that the process of change in South Africa was "irreversible".
But apart from these novel occurences, in many ways, South Africa seemed to be set in its ways, with ongoing accusations that it was "clearly" still supporting RENAMO in its ongoing conflict with the Mozambican government. Official spokespersons vehemently denied that any such support was happening.
MHN Resources
Consolidated Downloadable Zipped Files
Click on the yellow folder image below to download a zipped file of the fifteenth of a series of dossiers on South Africa-Mozambique relations. The archive covers the year 1991, and contains 28 documents. New items will be added from time to time: this edition of the dossier is dated 23 October 2021.