Mozambique's International
Relations with South Africa
Dossier MZ-0007, part 13


13. In Search of an Understanding
Regional Peace Initiatives, 1989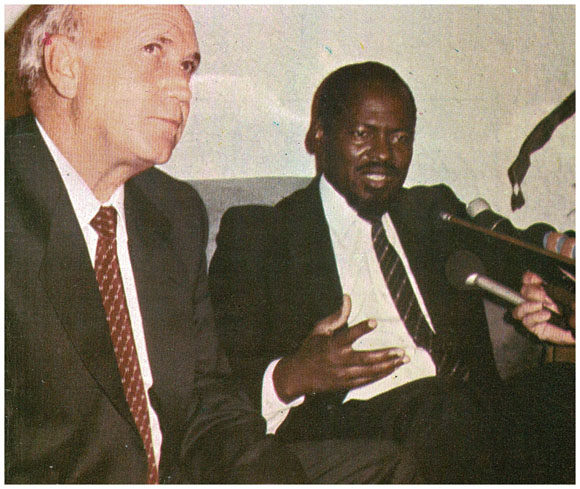 Above: South African State President F. W. de Klerk (left) and President Joaquim Chissano of Mozambique during the former's visit to Maputo in December 1989. De Klerk assumed the state presidency on 15 August 1989. (Photo: Revista Tempo, cover, issue no.1002).
In the two years 1988 and 1989 the South African apartheid regime gradually began to abandon the policy of direct military destabilisation of Mozambique and started to think in terms of peace processes. By late 1988, it was clear that Mozambican war-weariness was emerging as an important factor in the 13-year-old conflict. The Catholic hierarchy had for many years advocated an end to what it insisted on terming a 'fratricidal' struggle between Mozambican brothers. At the Southern African Roman Catholic Bishops Conference in Harare in September 1988, Mozambican clerics argued in favour of talks, and a confidential report was submitted to the meeting stating that peace was only possible if the government reached agreement with RENAMO.
In early February 1989 Pik Botha, revealed that he had suggested in December to US Secretary of State George Shultz that they together initiate a Brazzaville-style peace process in Mozambique. The US response was cool and formal, but immediate. A State Department spokesman emphasised that the first step would have to be 'an expression of interest' by the Mozambican government and pointed out that 'South Africa's long-standing relations with RENAMO give it the ability to play a constructive role in ending the conflict if it is prepared to do so.' A week later, RENAMO's spokespersons in Lisbon rejected the idea, saying that South African mediation was unacceptable since Pretoria had become 'an ally of the Mozambican government.' Only direct negotiations would serve.
Chissano emphasised that if the objective was 'to reintegrate in the community those willing to renounce acts of destruction of our society on behalf of external forces, this approach appears to be acceptable.' On 23 March, Pik Botha flew to Maputo for his second meeting with Chissano in less than six weeks, saying he'd come to exchange 'ideas on latest developments as regards the objectives of achieving peace in the region, and in Mozambique in particular.' He later said that the meeting had been 'most useful and positive.'
By year's end, President de Klerk had visited Mozambique twice (in July and December), for talks that were described as significant and successful. Trade agreements were also concluded covering such diverse products as fish, cashew, citrus fruit, furniture, and art works. Debt rescheduling for an amount of around US$14 billion was also agreed, extending the period for repayment to twenty years.
MHN Resources
Consolidated Downloadable Zipped Files
Click on the yellow folder image below to download a zipped file of the thirteenth of a series of dossiers on South Africa-Mozambique relations. The archive covers the year 1989, and contains 138 documents. New items will be added from time to time: this edition of the dossier is dated 23 October 2021.